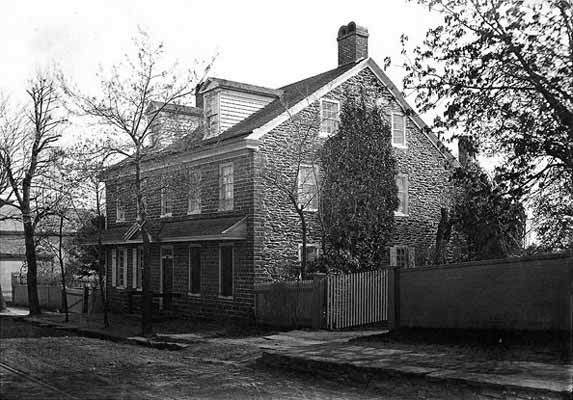 Built in 1768, the Johnson House was one of Germantown's oldest existing year-round homes. It looks much the same today as it did in 1768. The dark stone, cut and dressed in the front, is native to the area. The Dutch doors are original to the house, as is much of the woodwork, flooring and glass. Several objects that belonged to the Johnson family are inside.
John Johnson, son of Dutch immigrant Dirk Jansen, built the house as a wedding present for his son John, Jr. and his bride Rachel Livezey. John Johnson, Jr. was a tanner and farmer and operated the tannery business from his home.
As Quakers, the Johnsons believed in non-violence. Consequently, while the Battle of Germantown raged outside the front door in October 1777, the family took refuge in the cellar. Their religious beliefs also kept them from defending their property when soldiers entered their home to steal food from their kitchen. Scars from the Battle of Germantown are still visible inside the house.
The Johnson family owned a substantial amount of land in Germantown and was one of the town's wealthiest families. They were active supporters of the Concord School, Germantown's first English-speaking school. The school, located across the street from the Johnson House, is still standing and open to the public for tours. John Johnson's son Samuel was a member of both the first school board and the first town council in Germantown.
When Samuel married in 1805, he moved into the Johnson House with his bride Jennet Rowland Johnson. As did many Quakers, Samuel and Jennet promoted their anti-slavery beliefs by offering their home as a station on the Underground Railroad. They provided sanctuary, food, clothing and transportation to untold numbers of African freedom seekers. Tradition holds that prominent abolitionists William Still and Harriet Tubman visited the Johnson House.
Members of the Johnson family owned the house until 1908, and it was possibly slated for demolition. In 1917, the Woman's Club of Germantown purchased the house. The Woman's Club was a community-minded group whose purpose was to influence the social, civic, educational and philanthropic life of Germantown. The Woman's Club used the house as their headquarters and filled it with fine antiques, furniture and china.
In 1919, the Woman's Club built a large assembly hall directly behind the house. That building is now the Meeting place of the Germantown Mennonite Church.
The Woman's Club owned the house until 1980, when it disbanded and gave the house with all its contents to the Germantown Mennonite Historic Trust to operate as a house museum.
Learn more about the Johnson House at
http://johnsonhouse.org/